BSFF 2017 Juror's Choice Award Winner - The Opposite of Orange
BSFF is pleased to announce that Christopher Kaufmann's film 'The Opposite of Orange' has been selected for the Juror's Choice Award for the 2017 season. Kaufmann was in attendance at the opening festival to accept the award and speak to the audience. We caught up with him just after the festival to hear his thoughts on receiving the honour:
I really had a great night at the BSFF in Berlin. The event took place in a nice, cosy cinema in Berlin, really lovely place. It really fascinated me, that these different people from all over the world, which are not filmmakers or producers by themselves, are putting so much effort and love into their very own film festival. I've been to many film festivals of different size and relevance, but what's so special about BSFF is the award. You can see the love for detail and perfection in every part of the award, it's stylish and remarkable in its craftsmanship. My favorite part is the red "camera neon"! It fits perfectly in my flat in Hamburg. Now, even when the camera is not rolling, I have this fancy reminder: that it's time to get out there and shoot something! I'm very proud, that the jury picked our film among those other really interesting and moving films.
To bestow the honour and facilitate the talk with Christopher was BSFF Juror & PR Agent, Nadine Dinter. Dinter's words about the film:
Positive and life-loving movie where two people met which seemed to have nothing in common. Through her energy, spirit and way to go through life, he seems to regain the power and strength to endure his. Great encouragement to revisit one´s own perception, think about our worries, thoughts and hopes...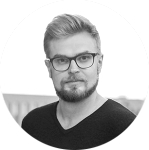 Christopher Kaufmann was born in 1986 in Munich. After high school he studied theater and media studies at the University of Bayreuth. In addition to his studies, he realized his own short film and theatre projects and has been a member of the acting ensemble of "Studiobühne Bayreuth" for two years. After his successful completion of the Bachelor of Arts, he worked as 2nd assistant director and extras supervisor for various television and feature productions . ("Tatort : Almighty " , " Take good care of him " , " Fuck you Gothe " , " Rico, Oscar und das Herzgebreche ") Apart from his work as a freelancer, he wrote and directed short film projects that have been shown at various film festivals. Since 2014 he studies film directing at the Hamburg Media School.
2016 The Opposite of Orange / 2015 Butter Brioche / short films Hamburg Media School
2015 Butter Brioche / short film / 2015 Sweeper's Pride / short film / Hamburg Media School
Overview
One hotel room. Two extreme characters. A blind woman meets a a suicidal man. It starts as an unexpected encounter, but little by little both realize, that it just feels right not be alone for the moment.
Director's Statement
It is sheer confusion that they meet in a hotel room. Lucie, a blind, life-affirming woman and Ralph, a desperate, lonely man spend a fateful night together.
Those magical encounters, being incomparable as they don't claim to initiate something extraordinary and settle for just the moment of a night, nevertheless are worth telling as far as I am concerned. Is it really true that you meet twice in a lifetime?
It is exciting to challenge fate and by doing so possibly gain the chance to an eternal magic - actually a beautiful notion.
Also the question how we would react when we would witness a stranger being about to commit suicide is in my mind ever since. Would we be able to get through to somebody being in such a desperate situation? A possible answer to the question what could give somebody a quantum of solace in such a situation is a human being like Lucie. Her character struck me when I first read the script and is fascinating me up until today. The beauty of the moment, created by this human being who is casting a spell over you and taking you on a journey - this is a fascination I would like to share with the audience.