Technicolor - BSFF 2017 Official Selection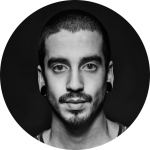 Rico Mahel was born in May 20th, 1989 in Güstrow, Germany and grew up in Berlin. He first studied Photography at Lette Verein Berlin and received the Photography Price (Appreciation) from OPUS Art Magazine for his work "soma". After several group and solo exhibitions and publications in different art magazines he felt that the still image starts to set boundaries and he began to shoot his first short films.
Since 2011 he studies Directing at the German Film and Television Academy Berlin (dffb) and is writing, producing, directing and editing successfully further short films and music videos.
A mysterious man collects 'impressions" from the outside world and eventually brings them to Lunakid who is working on his new music track in a place beyond space and time.