Stray Animals - BSFF 2017 Official Selection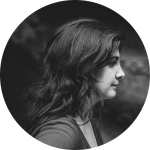 Maju de Paiva was born in 1996, in Rio de Janeiro. In 2014, she started attending the course of Cinema and Video in Universidade Federal Fluminense. 'Stray Animals' is her first film as a director and scriptwriter, which was sponsored by the Rio de Janeiro Culture Office and Cesgranrio Foundation and won the Canal Brasil Acquisition Award.
Olivia and Arthur spend their days away from home. They walk around the condominium, listen to music and dream of somewhere far away. The day Olivia discovers a stray cat in the woods is the first step into a journey of loss of innocence.