Spacemen - BSFF 2017 Official Selection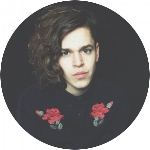 Edward Zorab was born in the south of England on April 19th, 1996. e studied Fine Art and Film at the Arts University Bournemouth, before moving to London and attending the Met Film School at Ealing Studios (W5). He has just completed his third short film, Spacemen, and is in pre-production for his fourth.
In this 1960's coming-of-age rom-com, Jimmy must chose between boycotting adolescence, o r falling in love with idiosyncratic dream girl, Cadence. In addition, a complicated home life is pushing Jimmy to the reluctant realisation that parents have flaws, just like us. As if all of that wasn't hard enough, Jimmy is troubled by routine hallucinations of a suicidal spaceman, who's significance extends far beyond the realms of mere hallucinations.

Upon meeting Cadence at a roadside vegetable stall , Jimmy is catapulted into the decisively awkward and foreign world of romantic courtship that we can all relate to. This tender vignette of a film explores the aches and pains of growing up, and the frustration with the lack of answers to life.