Perched - BSFF 2017 Official Selection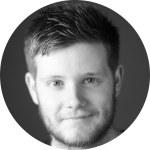 Liam Harris is a recent NFTS Graduate obtaining a Masters Degree in Directing Animation. From a young age, Liam was inspired to work in hand-drawn animation, having grown up with the likes of Raymond Briggs's illustrations, Glenn Keane's paper drawn Disney characters and Joanna Quinn's energetic yet fluent pencil on paper animation, a traditional style he has since adopted into his film making. Liam is a true collaborator, passionate storyteller whose work has been showcased internationally.
Hamish Fint, a crotchety old man used to a life of seclusion inside his submarine balanced precariously atop a mountain, struggles to maintain equilibrium when an unwelcome visiting seagull rocks his world.