Get Yourself Together, Mikey - BSFF 2017 Official Selection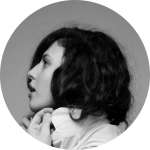 Danna frank is a poet and filmmaker, director at the Israel Public Broadcasting Corporation (IPBC). Her feature length documentary, Ms Auschwitz, is to be shot in summer 2017. Born in 1989, living in Tel Aviv. Graduate of Steve Tisch school of film and television at Tel Aviv university.
Following a harsh breakup, Mikey gets an unlikeable chance for a closure and a new sense of purpose for his life.